"Join Us and Get Connected to France and the French Speaking World
and Burst Out in French With Ease!"
Chers amis,
C'est la Rentrée! And along with this annual opening of Autumn and the return to school, we are proud to be beginning our third decade here in Southwest Florida.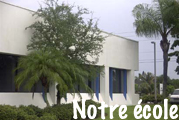 The arrival last winter of Covid-19 put a stop to our normal classes and these past 6 months have been very quiet as we prepare to keep in touch with France with the medium of Zoom, and very small classes "live" in our comfortable classroom surrounded by many good French books, maps, and friendships.
We miss our opportunities to travel to France, but welcome good programming on TV5 Monde and the museum tours and other programs available with the help of the French Cultural Services.
Until we meet again, stay well and safe.

À Bientôt,
C'est la Rentrée ! Et avec cette ouverture annuelle de l'automne et le retour à l'école, nous sommes fiers de commencer notre troisième décennie ici dans le sud-ouest de la Floride.
L'arrivée, l'hiver dernier, de Covid-19 a mis fin à nos classes normales et ces 6 derniers mois ont été très calmes, alors nous nous préparons à rester en contact avec la France avec l'application Zoom, et de très petites classes en directe dans notre confortable salle de classe entourée de nombreux bons livres en français, cartes et amitié.
Les opportunités de voyager en France nous manquent, mais nous accueillons une bonne programmation sur TV5 Monde et les visites des musées et autres programmes disponibles avec l'aide des Services culturels français.
Jusqu'à ce que nous nous réunissions de nouveau, restons bien et en sécurité.

À bientôt,
Mimi C. Gregory,
Présidente
Click the icon below for more comfortable viewing !